Turnings
Segmented
Items

Bowls

Vessels

Pens

Ornaments

Just For Fun
More Info
Hi, you've reached the woodturning web site of Dennis Daudelin. You see me here working on a large 18" cherry bowl on the Oneway 2436 lathe that I used when I lived on Cape Cod. Now that I've moved full time to Florida, I turn on a new Jet midi lathe.

On this web site, you can see some of the turnings that I've created over the years.

---

If you think that you might be interested in turning or just want to learn more, you can check out a woodturning web site that I've built for hobbyist. It is named

Woodturning Online.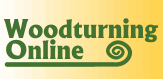 I also publish a popular online monthly magazine dedicated to woodturners. The magazine features all original content each month. We have project tutorials, woodturning articles, new product announcements, a fun, multiple-choice quiz, market news, turner profiles, product reviews and more.

Check out More Woodturning Magazine